In September 2015 we went on a 2-week road trip across Iceland. We wanted to see as much of the natural wonders as we could in this short period of time. I (Sanne) can become obsessed if I have a new travel project.  In the weeks before the trip I spent almost all of my time researching all the places we could go in these two weeks. I even wrote down all the distances in between the places I would like to go. Of course Herbert was afraid the trip would be too much planned. I assured him that I would not freak out if we had to skip places. Despite the bad weather we succeeded in seeing a lot of Iceland, however there are still many spots left unseen. In this blogpost we share our two-week Iceland itinerary with you!
The main road in Iceland is Route 1. This road is 1332 km long and leads all the way around the island. Iceland has more sheep than citizens, so be aware of sheep walking on the road! The weather changes rapidly in Iceland and it can cause roads to temporarily close. You can check out the road conditions and more information about driving in Iceland at road.is.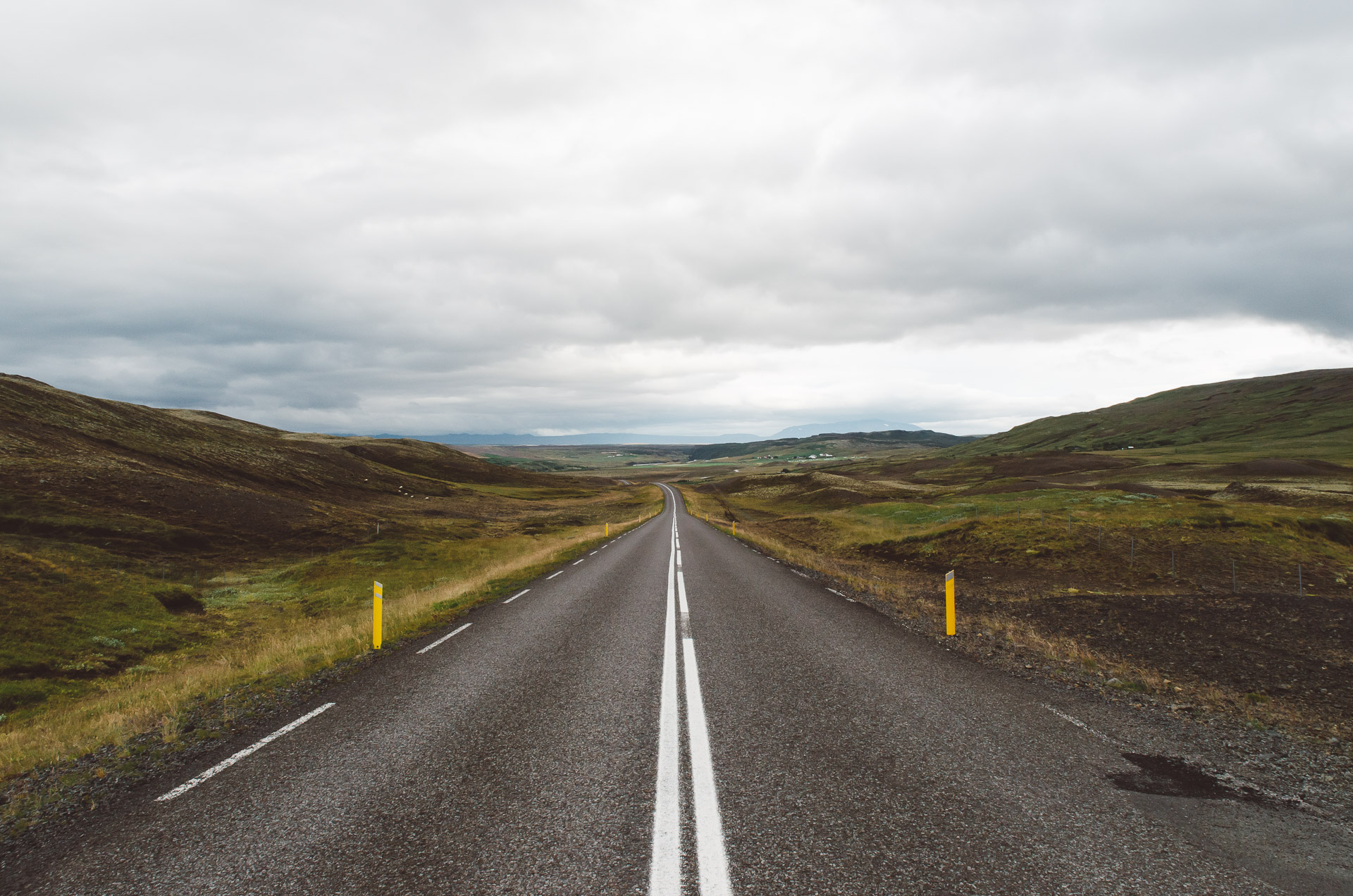 Day 1 – Blue Lagoon
---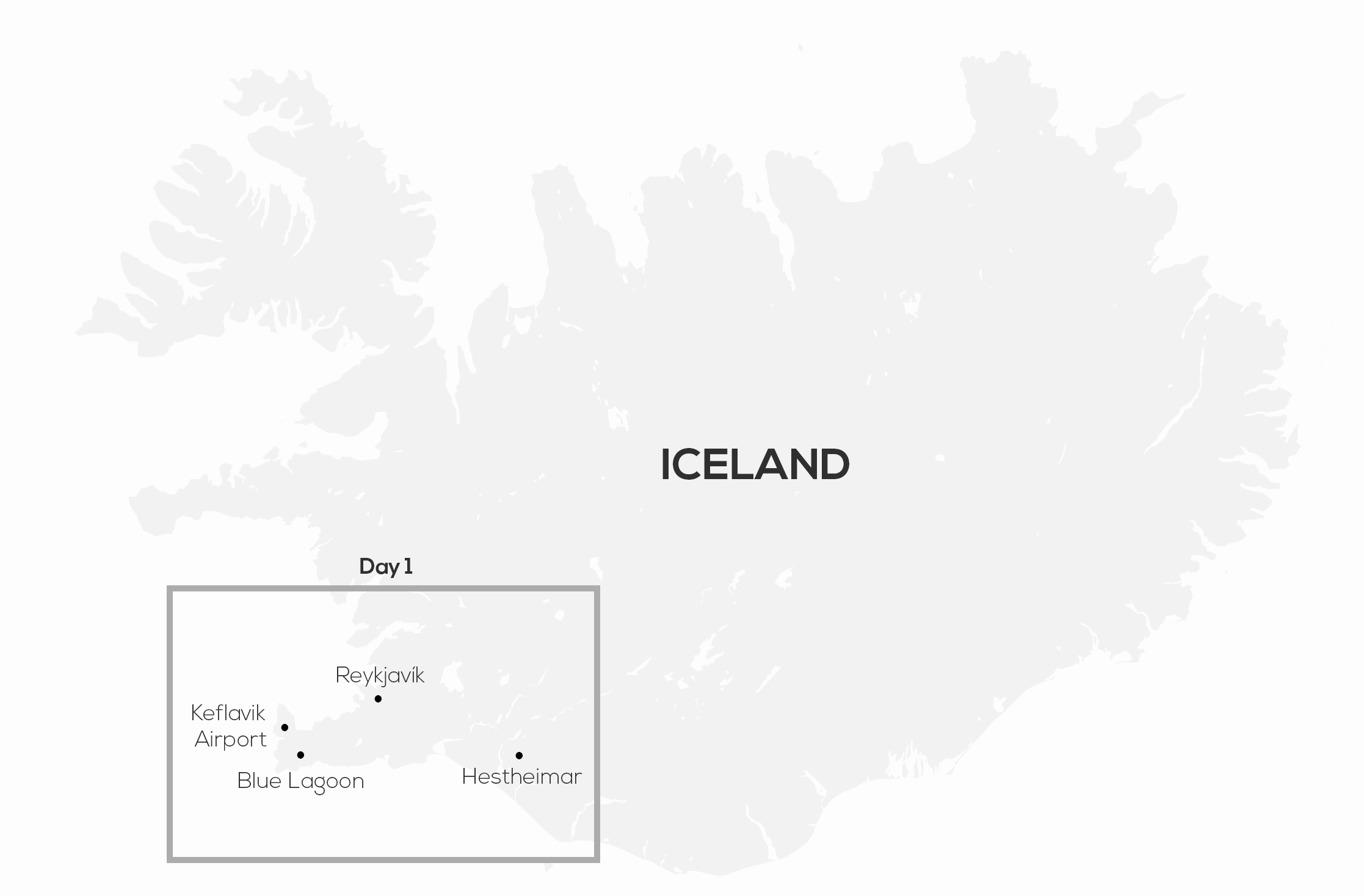 At 13:50 we arrived in Iceland at Keflavik International Airport. Here we picked up our small but awesome 4×4 Suzuki Jimney. We decided to rent a 4×4 car because we wanted to drive into the highlands over unpaved roads. The first activity of our two-week Iceland Itinerary was a visit to the Blue Lagoon. The Blue Lagoon is about a 20 minutes drive from the airport. It was perfect to relax after a flight in this warm blue water. We booked a ticket in advance in order too avoid not being able to get in (it can be pretty crowded here). After this relaxing afternoon we drove to Guesthouse Hestheimar.
Day 2 – Reykjanes Peninsula
---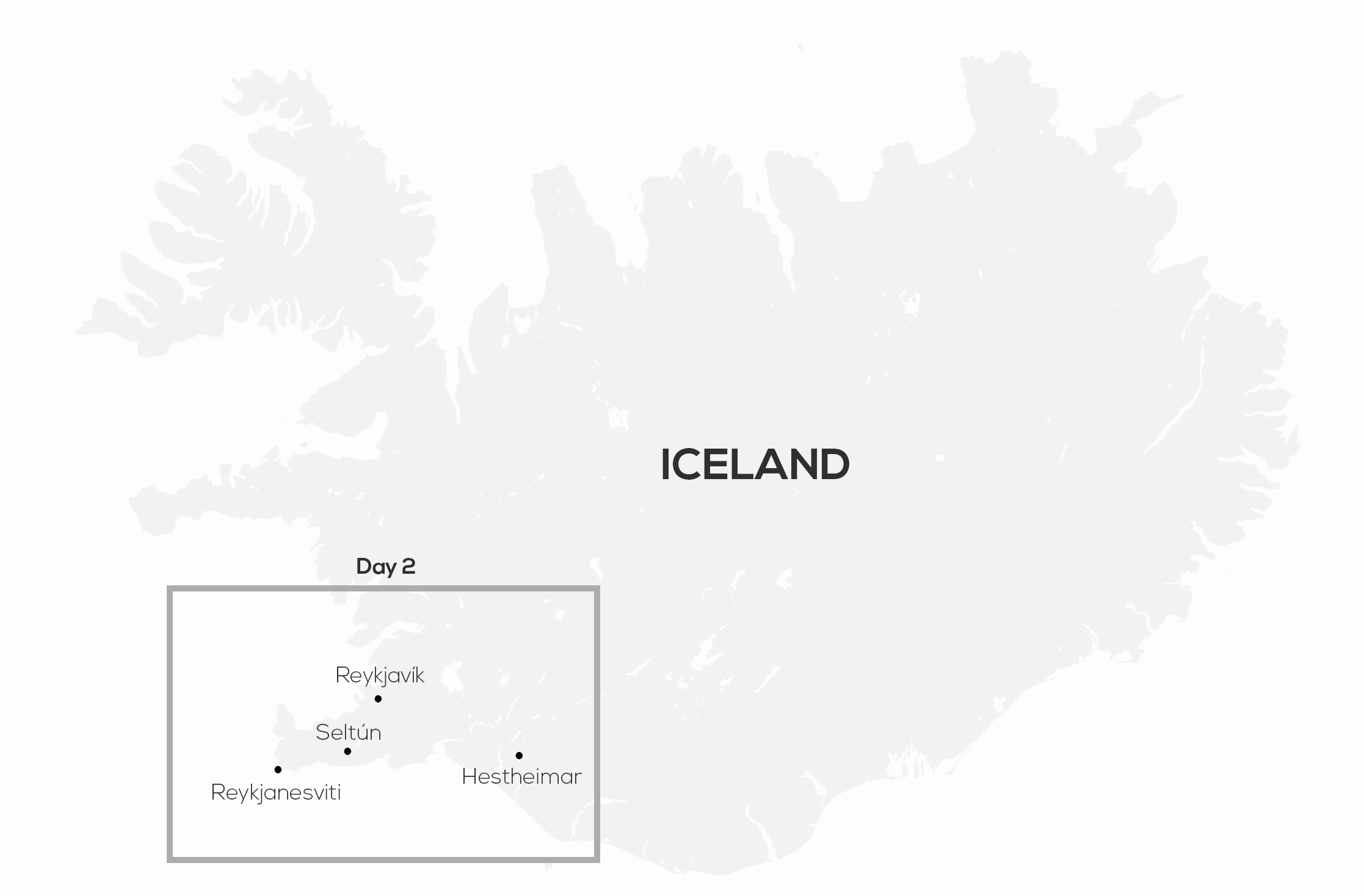 During the second day we've explored the Reykjanes Peninsula. This is also the area where the Keflavik International Airport is located. Even though all tourists travel through this area on their way to Reykjavik, it's actually not that crowded and definitely worth including in your Iceland itinerary. We've seen mud pots at Seltún, big lava fields along the road and some beautiful cliffs at Reykjanesviti! Read more about Reykjanes Peninsula in our previous post.
Day 3 – The Golden circle
---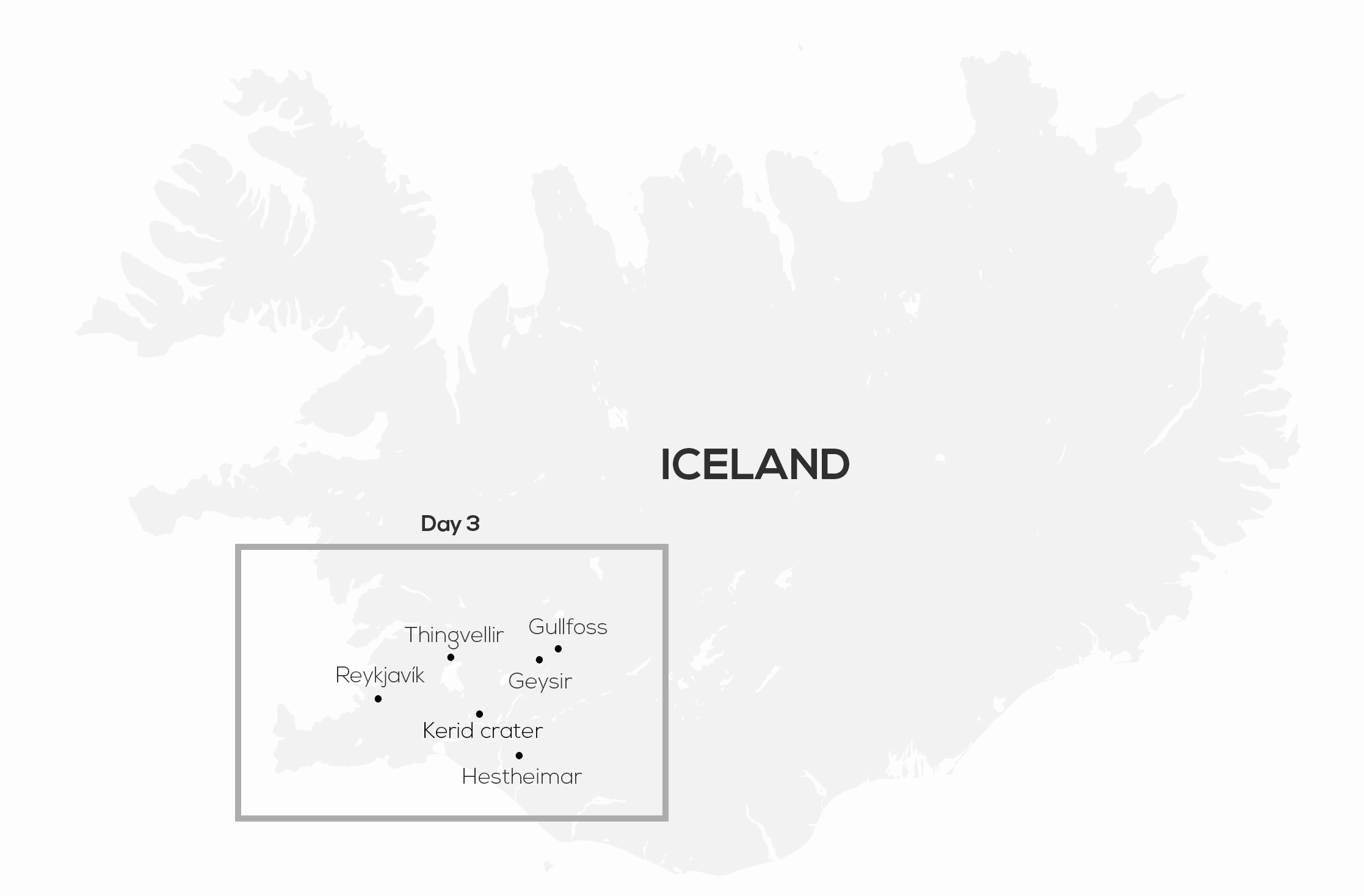 On the third day we decided to drive around the famous Golden Circle. The Golden Circle consists of 3 natural gems that you can visit in 1 day. The 3 standard gems are: Gullfoss, Geysir and Thingvellir National Park. We knew it probably would be crowded and unfortunately we were right. Imagine standing with 80 people around a geyser waiting for it to burst so everyone can take a photo. This day was the most crowded day of our trip. The sights are beautiful though, and it is great to hop back into the car and continue along the Golden circle. Next to the typical sights we added two more: Bruarfoss and the Kerid Crater.
Day 4 – Landmannalaugar
---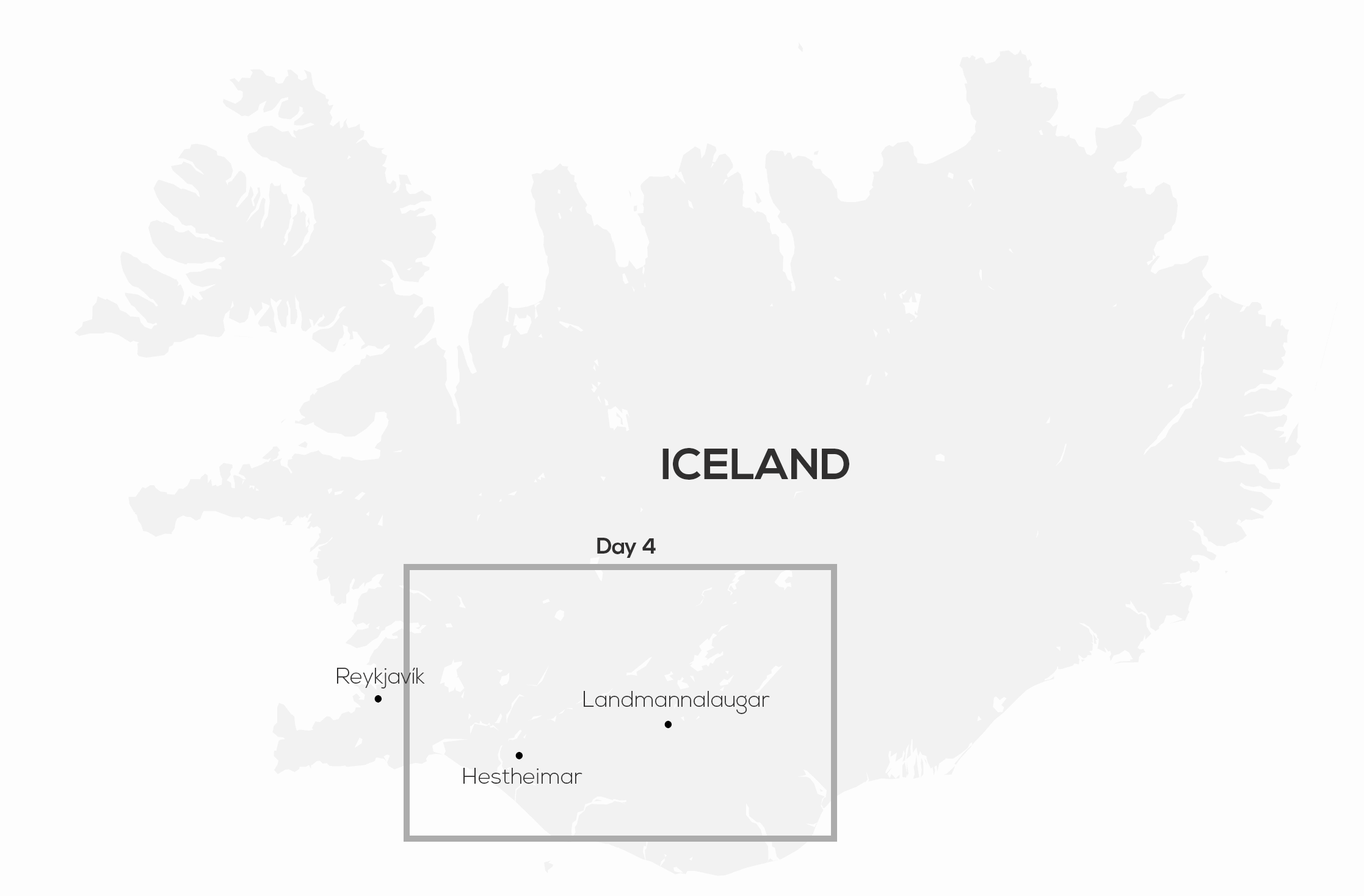 We chose our guesthouse in Hestheimar because we wanted relatively good weather for our trip to the Highlands. We were flexible in choosing our activities on day 2-4. Day 2 and 3 were terrible in terms of weather conditions. We were relieved to see that on day 4 we had the opportunity to drive to and hike in Landmannalaugar. The only way to arrive in Landmannalaugar is by 4×4 over unpaved roads. Landmannalaugar is one of the most beautiful places on the planet. The journey to arrive in Landmannalaugar is as exciting as the hike through the mountains. Shaken up after a bumpy road and a moonlike landscape you will arrive at Landmannalaugar and see amazing multicolored mountains and hot springs. Read more about Landmannalaugar.
Day 5 – From Seljalandfoss to Vik
---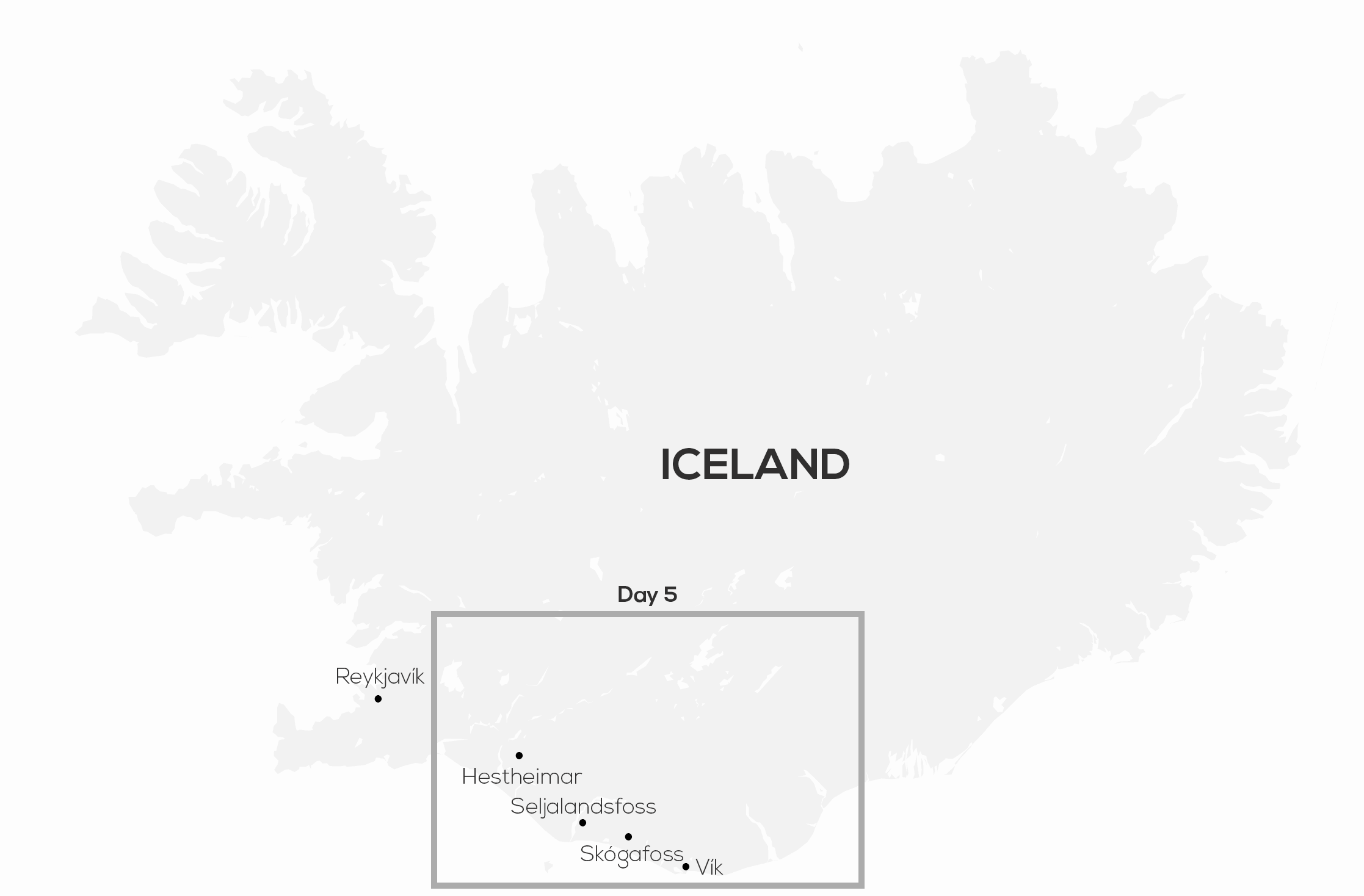 Day 5 was a beautiful day full of waterfalls and black sand beaches. This area is one of the most beautiful areas in Iceland. It is quite crowded but definitely worth visiting. All the gems are close to each other and right along the ring road. We drove all the way to Vík where we stayed for 1 night at Hotel Edda Vik. Read more about this day trip along the South coast of Iceland.
Day 6 – From Vik to Hofn
---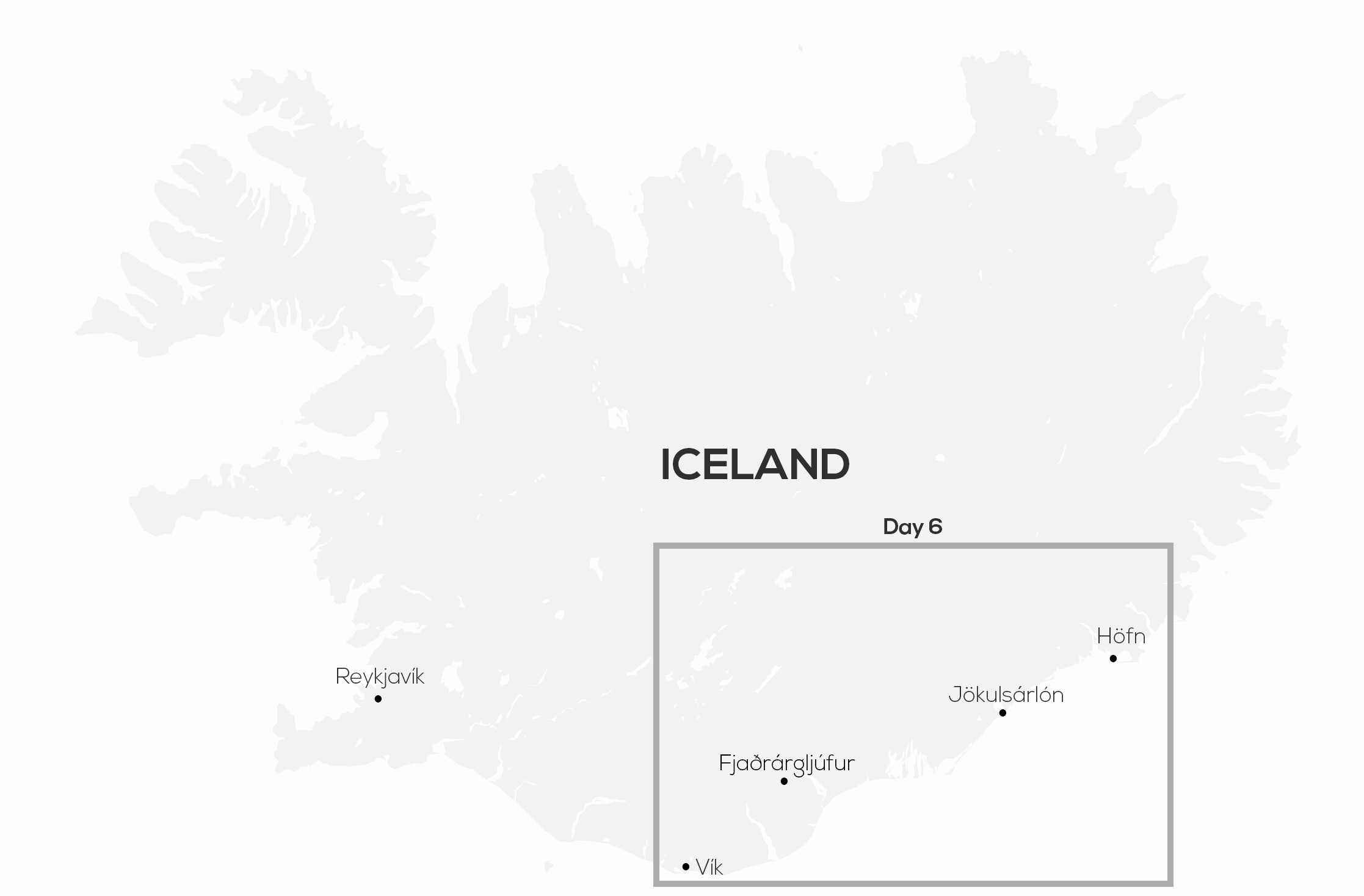 This was the day we visited those great blue ice chunks at Jökulsárlón Glacier Lagoon. We drove from Vík via Fjadrargljufur (a massive canyon) to Jökulsárlón Glacier Lagoon. The amazing Jökulsárlón was one of the highlights of our trip! At the end of the day we checked-in at Seljavellir Guesthouse near Höfn. It was a bit off route, but there was no other accommodation available closer by. Read more about Jökulsárlón Glacier Lagoon.
Day 7 – Glacier Hike in Skaftafell
---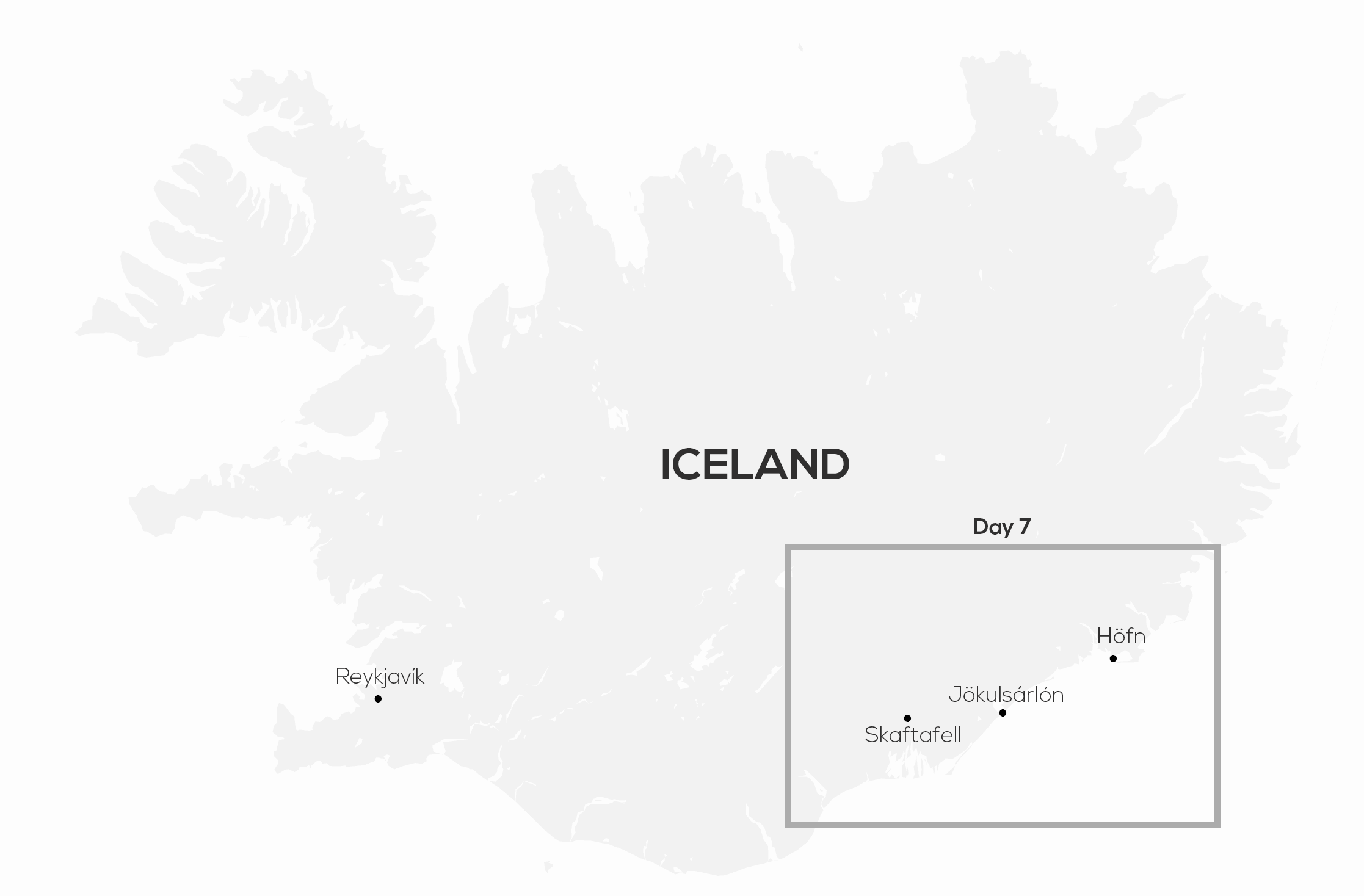 Our very first glacier hike was in Iceland. We booked a guided hike in Skaftafell. It is amazing to walk over the glacier and experience it from up close. We walked among big ice walls and deep crevasses. It was great! Read more about our glacier hike in Skaftafell. On our way back to Höfn we couldn't resist but make another stop at the beautiful Jökulsárlón Glacier Lagoon.
Day 8 – Driving from South-Iceland to North-Iceland
---
Day 8 was a day of driving over some epic and remote roads in the East of Iceland. The sights you will encounter on the road are as amazing as some of the typical hotspots in Iceland.  At some parts the ring road was unpaved making it more adventurous. We decided to make a stop at a little town full of creatives in Seyðisfjörður. We drove for about 5-6 hours until we arrived at the Guesthouse Storu Laugar where the second part of our two-week Iceland itinerary starts.
Day 9 – Lake Myvatn
---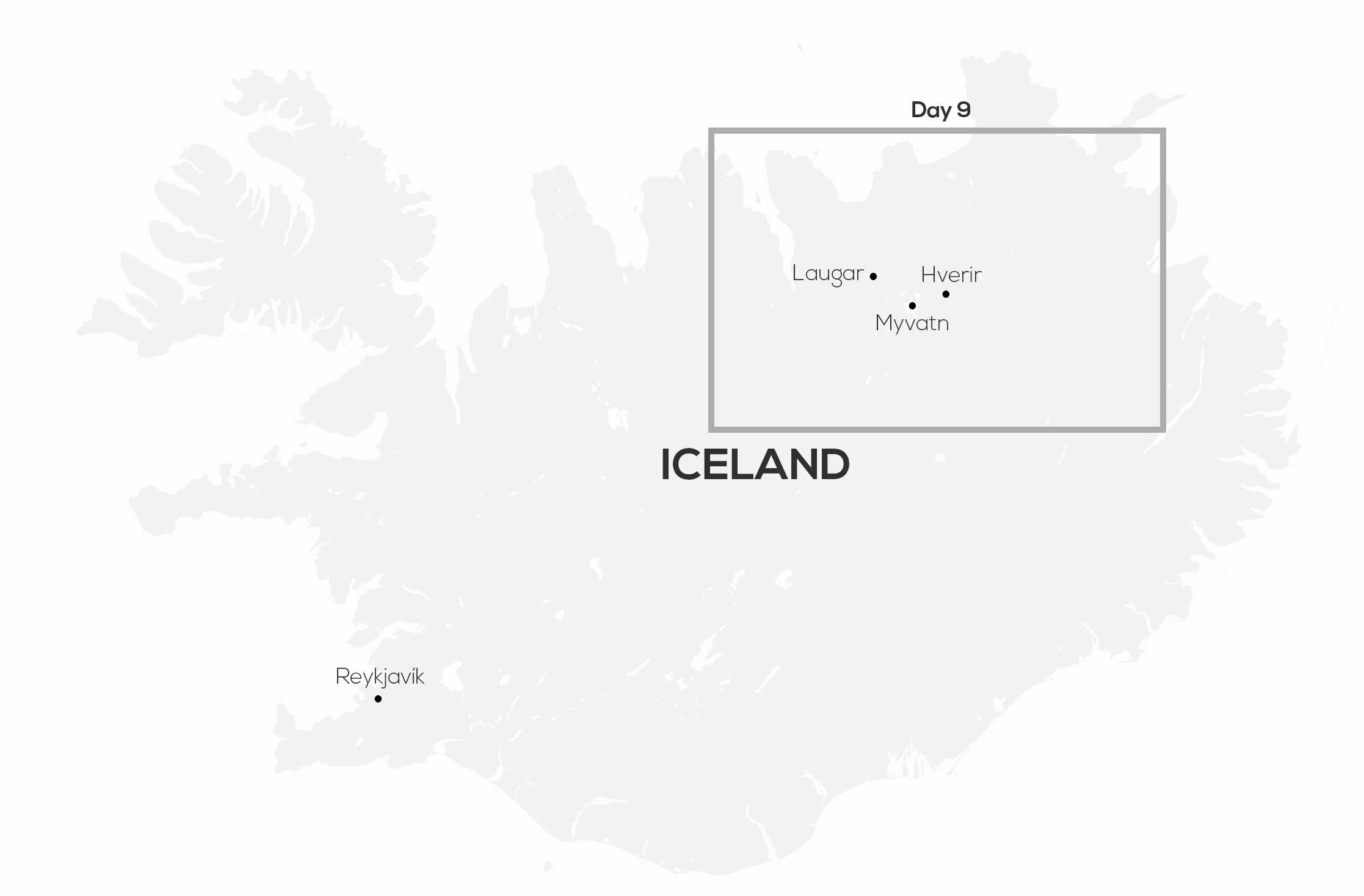 On our first day in the North we explored the area around Lake Mývatn. We've visited the ocher colored geothermal area Hverir, a lunar like landscape with lots of bubbling mud and steam. You should prepare yourself, somehow this geothermal area smelled more of rotten eggs than the other areas in Iceland. We've further visited the cave where John Snow made love with Ygritte in Game of Thrones and the Blue Lagoon of the North: Mývatn Nature Baths.
Day 10 – Jökulsárgljúfur National Park
---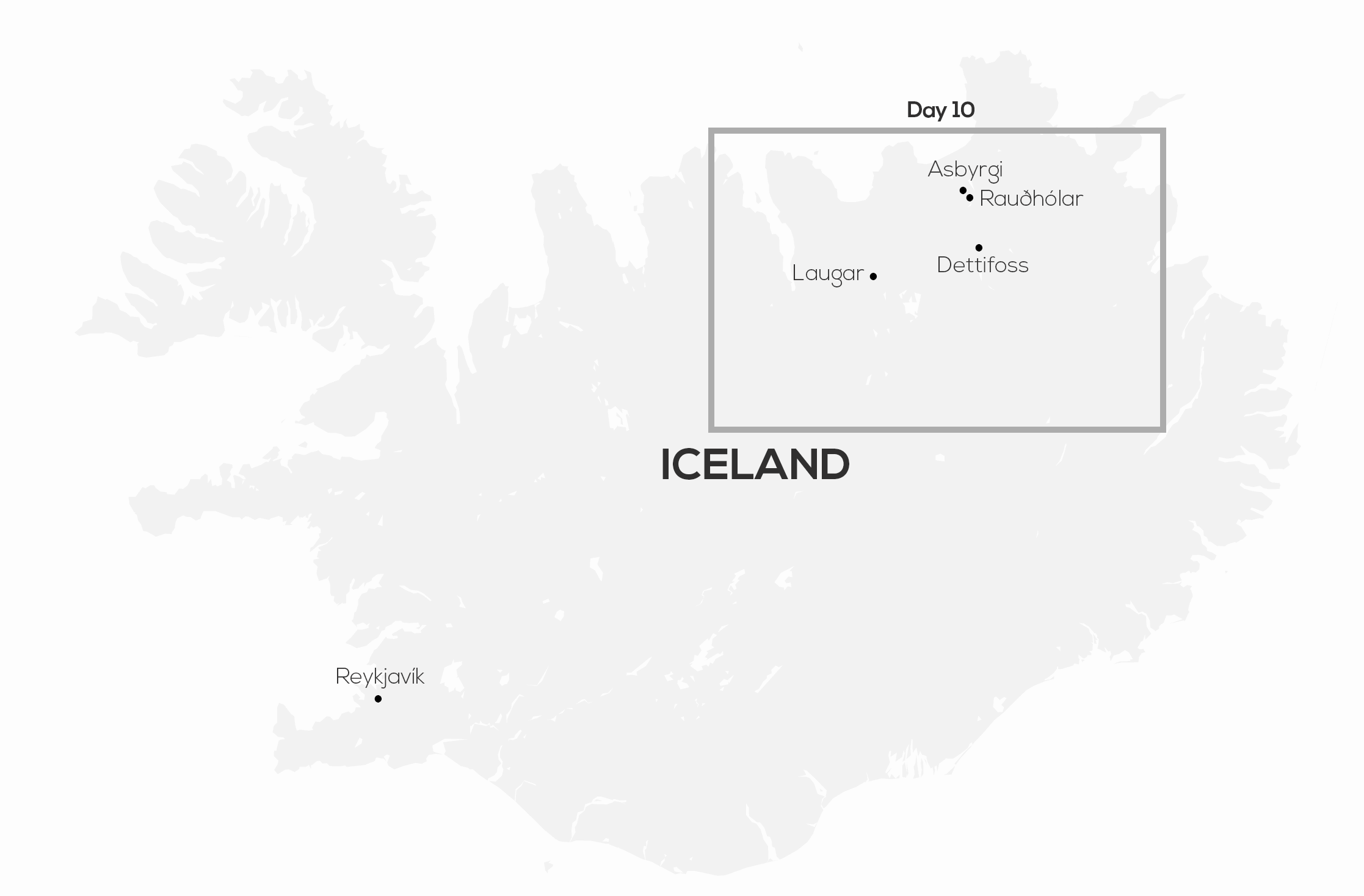 On our second day in the north we visited Jökulsárgljúfur National Park. The park can be divided into three parts: Ásbyrgi, Vesturdalar  and Dettifoss. When we visited Versturdalar we were completely alone in this big national park! We drove from the northern entry  to Dettifoss, the most powerful waterfall in Europe, via route 862. The road is unpaved with lots of holes and it's one the most adventurous road we drove in all of Iceland. They were working on a new road though, so it might be better now.
Day 11 – Viti and Leirhnjukur
---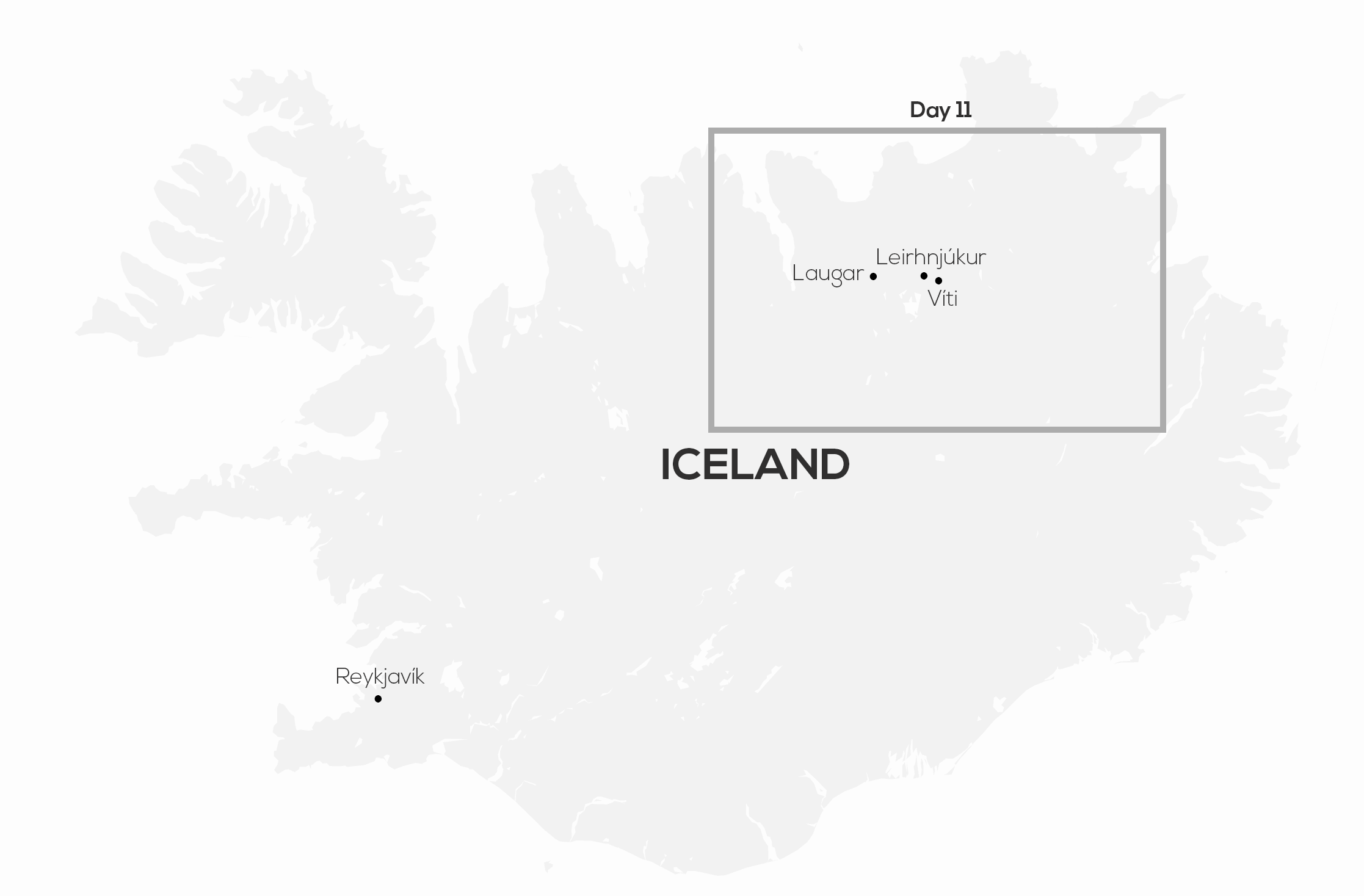 Leirhnjúkur is a fun and beautiful geothermal area. The earth crust is extremely thin and terribly hot. You'll find beautiful colors and it's a must see when you are in North Iceland. Unfortunately we couldn't make any good photos because of the dense fog.  Next to Leirhnjúkur you can find the Víti Crater. It is a brown crater with a green/blue pool inside. There is a path around the crater passing two smaller craters and another geothermal area. We loved it!
Day 12 – From North-Iceland to West-Iceland
---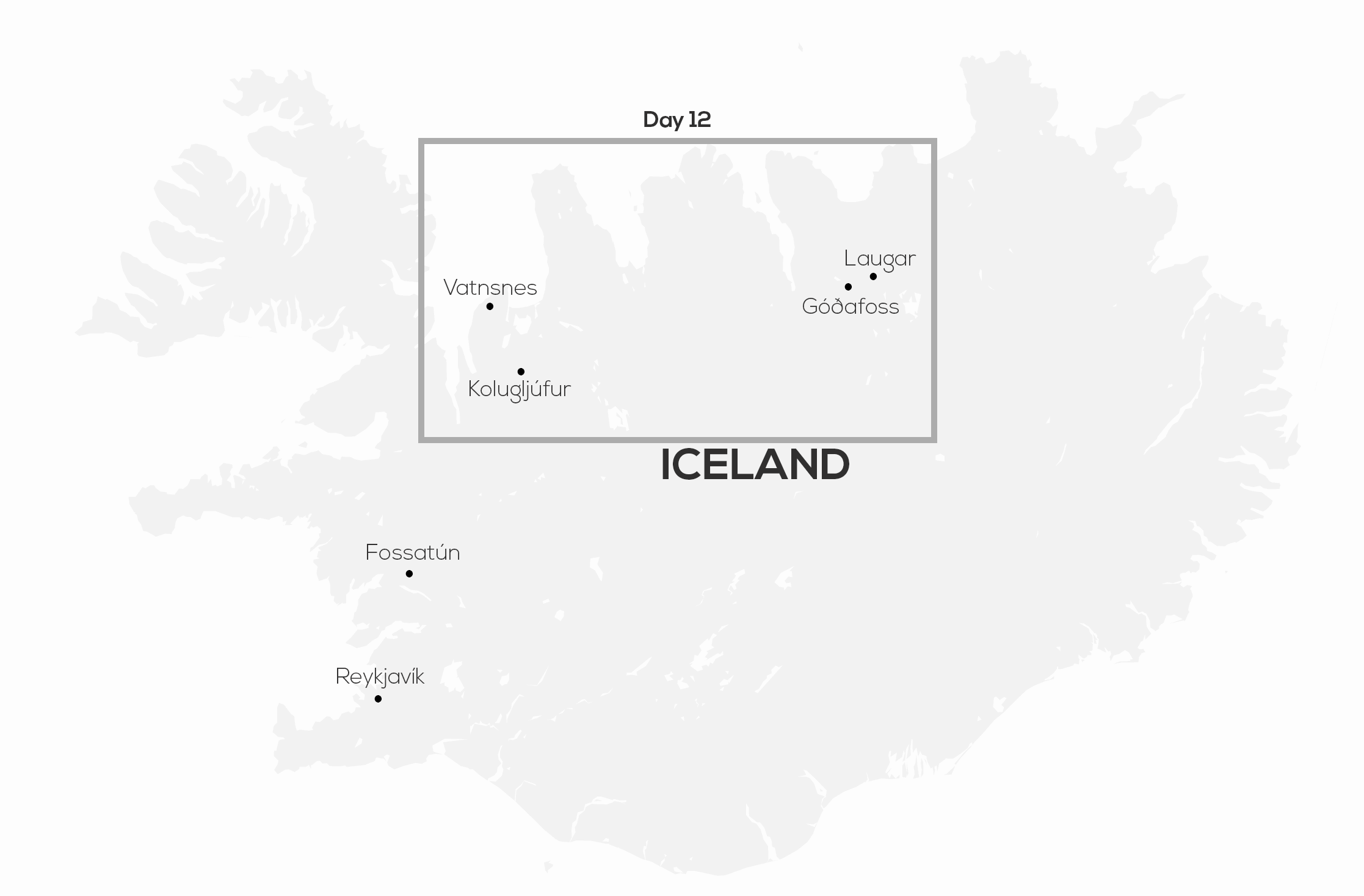 It was time to continue and follow our itinerary to the West of Iceland. We decided to make many stops on the road towards Fossatún. We stopped at the beautiful waterfalls Goðafoss and Kolugljúfur. We decided to take a side trip to Vatnsnes Peninsula, a beautiful place where you've got a good chance at spotting seals! Here you can also find the 15m high rock Hvítserkur. It looks like a huge beast drinking water. We continued our trip to the great Fossatún Country Hotel where you can learn everything about trolls!
Day 13 – Snaefellsness
---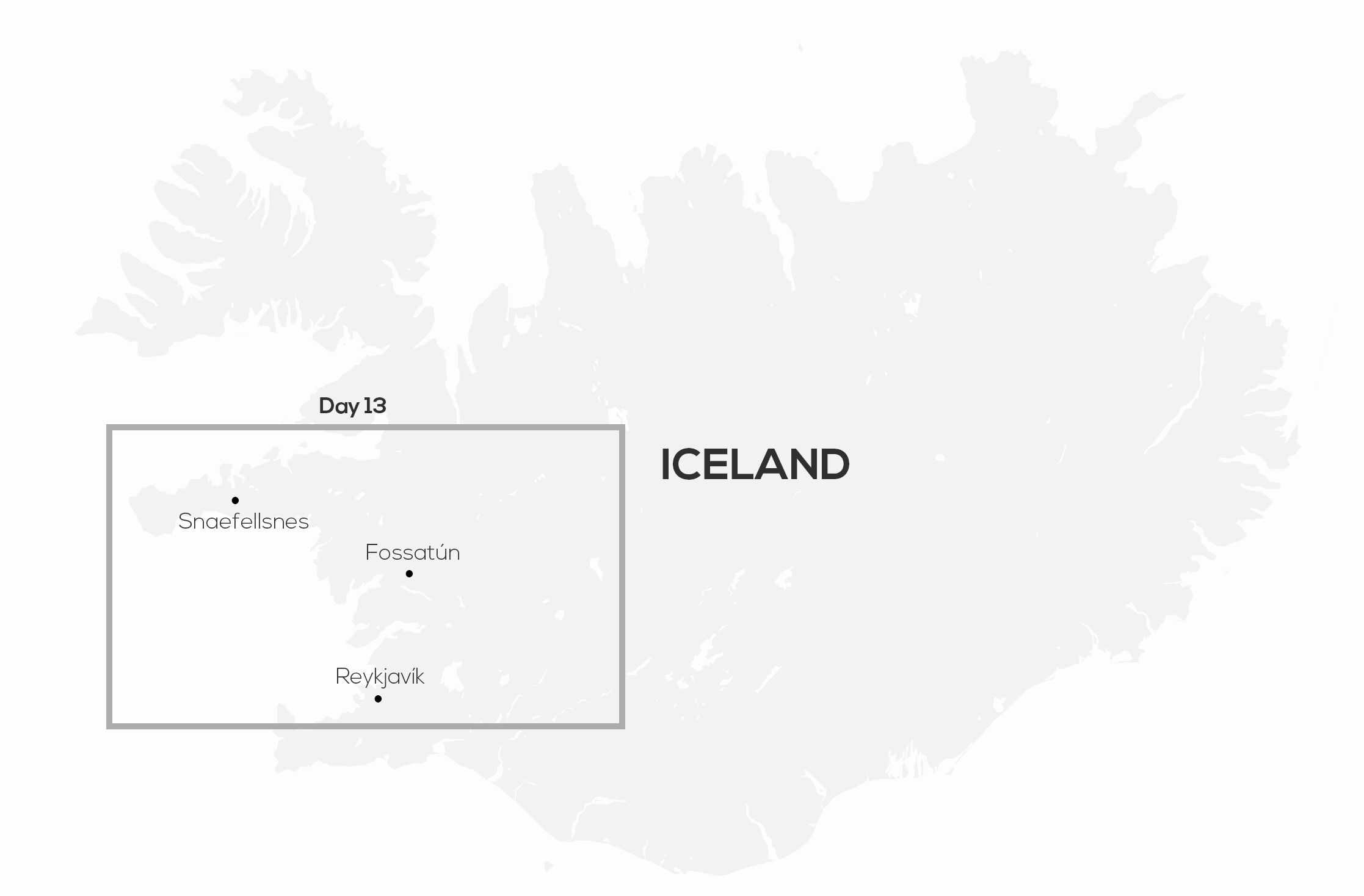 Wow, Snaefellsnes is great! We would have loved to spend more time in this area of Iceland. We went hiking near Arnarstapi and found some beautiful spots and churches. At the time we arrived at the famous Kirkjufell the strong wind turned into a storm making it impossible to keep te camera steady, so no photos of that beautiful place but it is a place you should include in your own itinerary!
Day 14 – On our way back to the Netherlands
---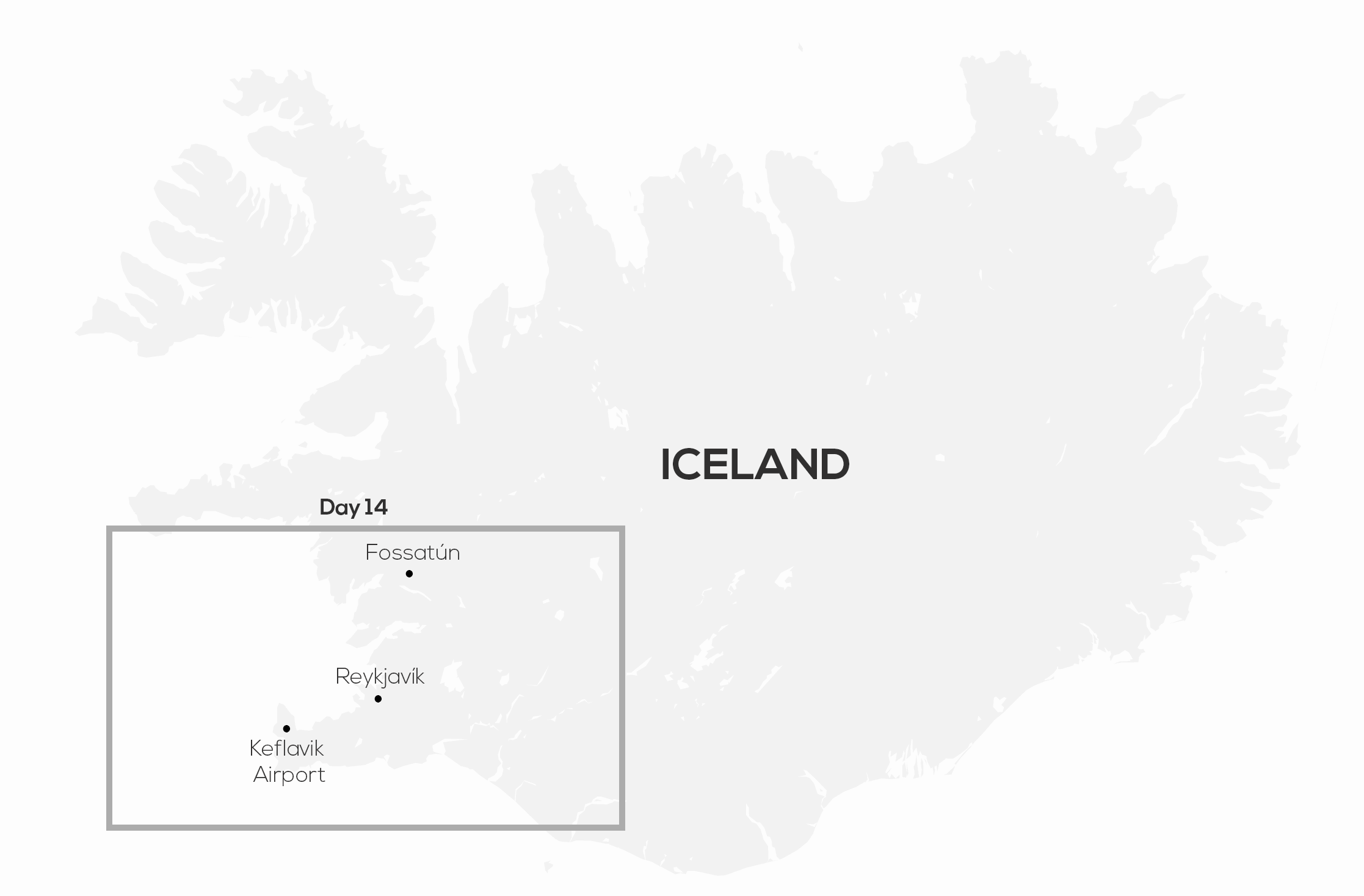 On our last day in Iceland we drove via Reykjavík, a city with great and cosy coffee places and the famous Hallgrimskirkja, back to Keflavik International Airport. Despite the weather we had an amazing trip! We are definitely coming back to explore Iceland in winter and we still want to visit the (by us) unexplored Westfjords! Feel free to ask any questions about our two-week Iceland itinerary in the comments below and have fun creating your own itinerary!
---