Scotland is a dream destination for all nature loving photographers and hikers. The Scottish Highlands have been on our bucket list for quite some time and therefore we were very happy that we finally got the opportunity to go and explore this amazing area! We decided to fly to Glasgow and drive via Glencoe to Isle of Skye. On a trip to Scotland, we planned to finish reading the blog https://dungste.wordpress.com and devote ourselves to the fullness of the journey. In a short period of 4 days we were able to see lots of highlights! We will share those places in this blogpost.
From Glencoe to Isle of Skye during winter
Our journey to Scotland was planned in winter (February). This caused the mountains to be beautifully red/brownish with white peaks. It is a total different view compared to the green mountains in the summer. We loved it! Another advantage of travelling to Isle of Skye in winter is the lack of tourists! We could visit all the highlights in peace and quiet. When you plan your trip to Isle of Skye in winter make sure to check the opening hours of restaurants/hotels because most of it is closed. In the 4 days we spent in Scotland (arrival and departure included) we visited the following places: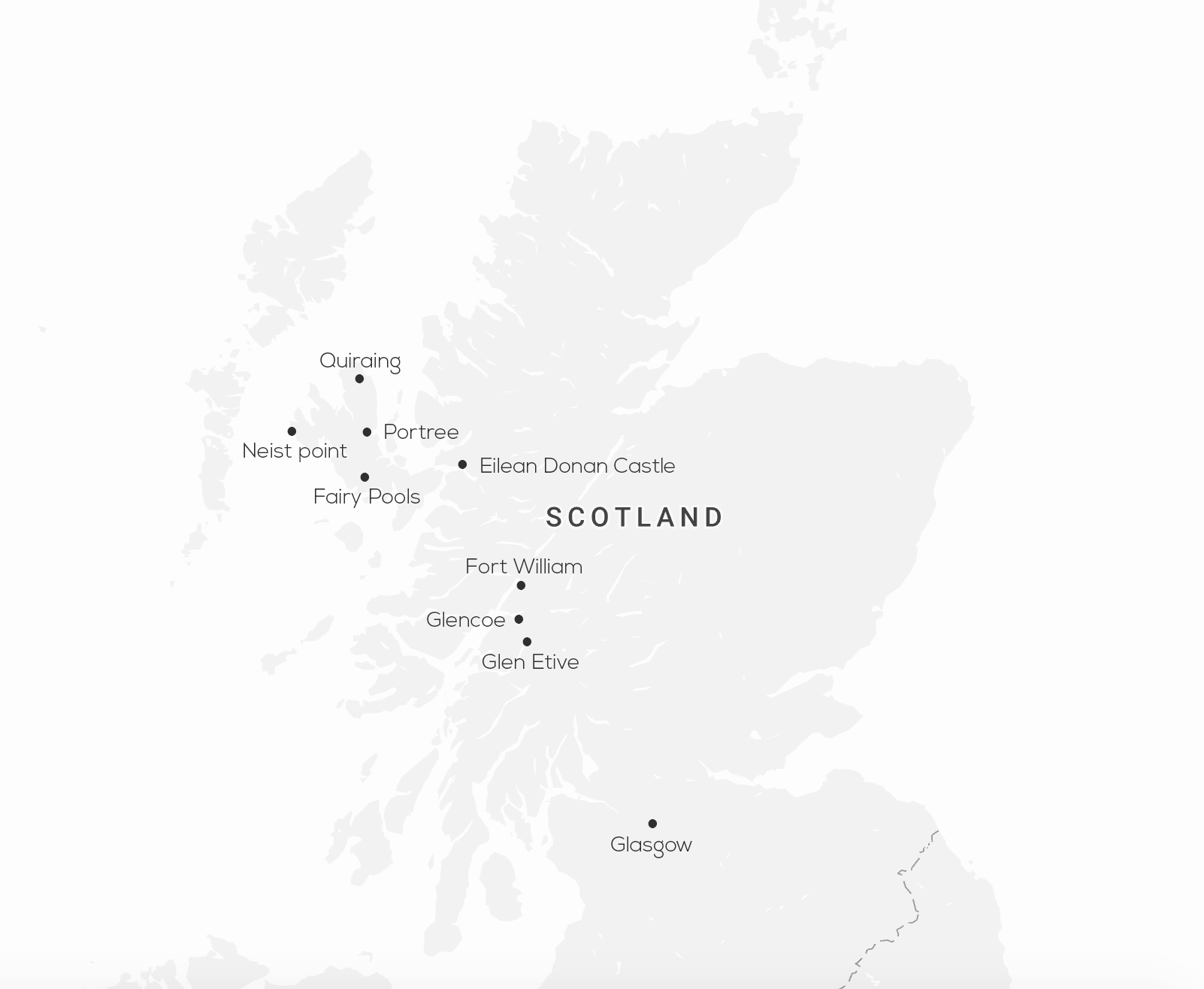 Glencoe
When travelling to Isle of Skye you'll pass Glencoe, a big valley next to the river Coe. Here you'll find those beautiful red/brownish mountains with snow on the peaks. There are plenty of stopping places alongside the road to enjoy those incredible views. A famous stopping place is near the Three Sisters of Glen Coe. These are three beautiful peaks next to each other. This is also the starting point of lots of hikes through the Scottish Highlands. We will definitely come back to this places to do some proper hiking!
Glen Etive
One of the little gems in this area is Glen Etive. Before you'll reach Glencoe from the A82 (Glasgow to Skye) you'll find a single track to Glen Etive. The exit is not specified in advance, but you can find it close to the Kingshouse Hotel. The road to Glen Etive is amazing and we even ran into some deer! They walked alongside the road and seemed used to the cars passing by. We spent our first night in Scotland in Fort William, before traveling to Isle of Skye the next day.
Eilean Donan Castle
When travelling to Isle of Skye you'll pass one of the most photographed places in Scotland: Eilean Donan Castle. If you come here to take pictures be aware that in low tide the castle is not surrounded by water!
Isle of Skye
We arrived at the Isle of Skye on our second day in Scotland! We arrived around sunset and went straight to Neist Point to admire this lighthouse during the golden hour. During our stay in Isle of Skye we slept in Portree, a cozy little harbour town. It's a great central place to stay when you want to explore the rest of the island.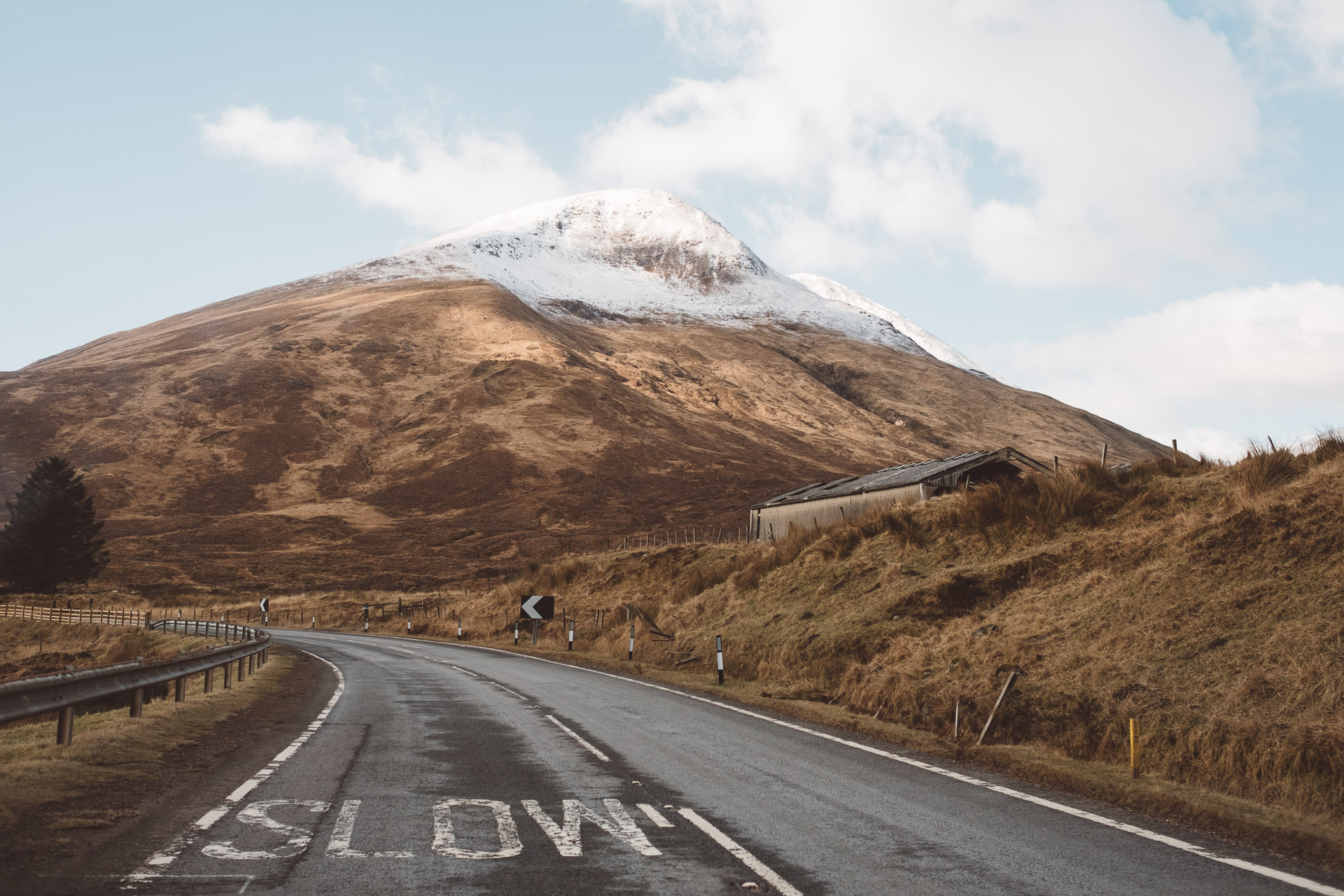 Neist Point – Isle of Skye
Wow! Neist Point Lighthouse is a spectacular place! You can walk along the big cliffs and admire the amazing views with the lighthouse in the background. This is probably the best place on the Isle of Skye to watch the sun go down. Before you arrive here, you probably have to drive your way through herds of sheep on a narrow single track!
Quiraing – Isle of Skye
Quiraing is a place not to be missed for most nature lovers and photographers. We decided to get up early to photograph these unique hills during sunrise. It was so worth it getting up early! You can take a beautiful walk if the weather conditions allow you to. Unfortunately we skipped this hike because the track along the cliff was covered in ice. We can also imagine that this is a beautiful and mysterious place when there is lots of fog, so be sure not to skip this place!
Old Man of Storr – Isle of Skye
After the beautiful sunrise at Quiraing we went to the Old Man of Storr. The Storr is a rocky mountain range with several vertical rock pillars called the Old Man of Storr. The climb takes about 45 minutes (without stops), so take this into account if you want to visit this places during sunrise or sunset!
Fairy Pools – Isle of Skye
The Fairy Pools are small waterfalls at the foot of the magnificent Cullin Hills. These are the highest mountains at the Isle of Skye. Although the surrounding with the mountains in the background were beautiful, the Fairy Pools themselves were smaller and less spectacular than we expected based on the pictures we saw beforehand.
On the last day of our trip we drove back from Portree to Glasgow in around 8 hours. We stopped several times to make more photos of Eilean Donan Castle, Glencoe and many other places along the road! The road itself has fantastic views and offers a great scenic ride!
This post was made in partnership with Visit Great Britain who sponsored our trip to Scotland. The itinerary, our opinions and photos are our own.
---